CU/XLPE/IS OS/LSZH Sheathed Flame Resistant Control Cable
CU/XLPE/IS OS/LSZH Sheathed Flame Resistant Control Cable
Product Description
| | |
| --- | --- |
| Conductor | Annealed or tinned copper, sizes: 0.5mm² and 0.75mm² mulitistranded(Class 5), 0.5 mm², 1.0 mm² solid(Class 1), 1.5mm² or 2.5mm², multistranded(Class 2) to BS6360 |
| Insulation | XLPE (Cross Linked Polyethylene), or PE (optional) |
| Pairing | Two insulated conductors uniformly twisted together with a lay not exceeding 100mm |
| Colour code | See technical information |
| Individual | Aluminium/polyester tape is applied over each pair metallic side down in contact |
| screen | with tinned copper drain wire, 0.5mm² |
| Binder tape | PETP transparent tape |
| Collective | Aluminium/polyester tape is applied over the laid up pairs metallic side down in |
| screen | contact with tinned copper drain wire, 0.5mm² |
| Inner Sheath | LSOH(Low Smoke Zero Halogen) sheath |
| Amour | Galvanized steel wire armour |
|   | LSOH(Low Smoke Zero Halogen) sheath |
| Outer sheath | Flame retardant to IEC60332-3-22 |
|   | Halogen free to IEC60754-1 |
|   | Low smoke emission to IEC61034-1-2 |
| Sheath colour | Black or blue |
Mechanical and Electrical Properties  of Instrument Cable  
Conductor Area Size
2
0.5
0.5
0.75
1
1.5
mm
Conductor Stranding
No. x mm
1 x 0.8
16 x 0.2
24 x 0.2
1 x 1.13
7 x 0.53
Conductor resistance max
ohm/km
36.8
39.7
26.5
18.2
12.3
Insulation resistance min
Gohm/km
5
5
5
5
5
Capacitance unbalance at 1
pF/250m
250
kHz(pair to pair screen)
Max. Mutual Capacitance @ 1
 
 
 
 
 
 
kHz forNon OS or OS cables
pF/m
115
115
115
115
120
(except one-pair and two-
 
 
 
 
 
 
pairs)
 
 
 
 
 
 
Max. Mutual Capacitance @
pF/m
75
75
75
75
85
1 kHz IS/OS cables (include 1
pair and 2 pair)

Max. L/R Ratio for adjacent

μH/ohm
25
25
25
25
40
cores(Inductance/Resistance)
 
Core to core
V
1000
1000
1000
1000
1000
Test voltage
Core to screen
V
1000
1000
1000
1000
1000
Rated voltage max
V
300/500
300/500
300/500
300/500
300/500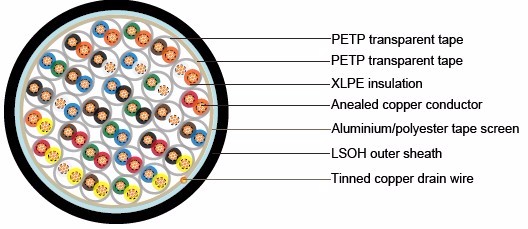 Parameter of Instrument cable  
| | | | | | | | | | |
| --- | --- | --- | --- | --- | --- | --- | --- | --- | --- |
| No.of pairs | No.and Dia. Of Wires no./mm | Nominal Conductor Cross-Sectional Area mm2 | Nominal Thick-ness of Insulation mm | Nominal Thick-ness of bedding mm | Nominal Dia. Over Bedding mm | Nominal Thick-ness of Armour mm | Nominal   Thick-ness of Sheath mm | Nominal Dia. Of Cable     mm | Approx.       Weight         kg/km |
| 2 | 1/0.80 | 0.5 | 0.5 | 0.9 | 9.7 | 0.9 | 1.4 | 14.3 | 380 |
| 5 | 1/0.80 | 0.5 | 0.5 | 1.2 | 13 | 1.25 | 1.5 | 18.5 | 640 |
| 10 | 1/0.80 | 0.5 | 0.5 | 1.2 | 16.9 | 1.25 | 1.7 | 22.8 | 890 |
| 15 | 1/0.80 | 0.5 | 0.5 | 1.3 | 19.7 | 1.6 | 1.7 | 26.3 | 1350 |
| 20 | 1/0.80 | 0.5 | 0.5 | 1.3 | 22.3 | 1.6 | 1.8 | 29.1 | 1470 |
| 30 | 1/0.80 | 0.5 | 0.5 | 1.5 | 27.1 | 1.6 | 1.9 | 34.1 | 1870 |
| 50 | 1/0.80 | 0.5 | 0.5 | 2 | 35 | 2 | 2.2 | 43.4 | 3000 |
| 2 | 16/0.2 | 0.5 | 0.6 | 1.1 | 11.2 | 0.9 | 1.5 | 16 | 460 |
| 5 | 16/0.2 | 0.5 | 0.6 | 1.2 | 14.5 | 1.25 | 1.6 | 20.2 | 760 |
| 10 | 16/0.2 | 0.5 | 0.6 | 1.3 | 19.3 | 1.6 | 1.8 | 26.1 | 1300 |
| 15 | 16/0.2 | 0.5 | 0.6 | 1.5 | 22.6 | 1.6 | 1.8 | 29.4 | 1440 |
| 20 | 16/0.2 | 0.5 | 0.6 | 1.5 | 25.7 | 1.6 | 1.9 | 32.7 | 1870 |
| 30 | 16/0.2 | 0.5 | 0.6 | 1.7 | 31 | 2 | 2.1 | 39.2 | 2400 |
| 50 | 16/0.2 | 0.5 | 0.6 | 2.2 | 39.9 | 2.5 | 2.4 | 49.7 | 3930 |
| 2 | 24/0.2 | 0.75 | 0.6 | 1.1 | 12.1 | 0.9 | 1.5 | 16.9 | 500 |
| 5 | 24/0.2 | 0.75 | 0.6 | 1.2 | 15.7 | 1.25 | 1.6 | 21.4 | 920 |
| 10 | 24/0.2 | 0.75 | 0.6 | 1.3 | 20.9 | 1.6 | 1.7 | 27.5 | 1610 |
| 15 | 24/0.2 | 0.75 | 0.6 | 1.5 | 24.6 | 1.6 | 1.9 | 31.6 | 1960 |
| 20 | 24/0.2 | 0.75 | 0.6 | 1.5 | 27.9 | 1.6 | 1.9 | 34.9 | 2420 |
| 30 | 24/0.2 | 0.75 | 0.6 | 2 | 34.4 | 2 | 2.2 | 42.8 | 3180 |
| 50 | 24/0.2 | 0.75 | 0.6 | 2.2 | 43.5 | 2.5 | 2.5 | 53.5 | 4506 |
| 2 | 1/1.13 | 1 | 0.6 | 1.1 | 11.9 | 0.9 | 1.5 | 16.7 | 515 |
| 5 | 1/1.13 | 1 | 0.6 | 1.2 | 15.4 | 1.25 | 1.6 | 21.1 | 950 |
| 10 | 1/1.13 | 1 | 0.6 | 1.3 | 20.5 | 1.6 | 1.8 | 27.3 | 1330 |
| 15 | 1/1.13 | 1 | 0.6 | 1.5 | 24.1 | 1.6 | 1.9 | 31.1 | 1680 |
| 20 | 1/1.13 | 1 | 0.6 | 1.7 | 27.7 | 2 | 2 | 35.7 | 2540 |
| 30 | 1/1.13 | 1 | 0.6 | 2 | 33.7 | 2 | 2.2 | 42.1 | 2900 |
| 50 | 1/1.13 | 1 | 0.6 | 2.2 | 42.5 | 2.5 | 2.5 | 52.5 | 4800 |
| 2 | 7/0.53 | 1.5 | 0.6 | 1.2 | 13.6 | 1.25 | 1.6 | 19.3 | 730 |
| 5 | 7/0.53 | 1.5 | 0.6 | 1.3 | 17.7 | 1.6 | 1.7 | 24.3 | 1180 |
| 10 | 7/0.53 | 1.5 | 0.6 | 1.5 | 23.9 | 1.6 | 1.9 | 30.9 | 1820 |
| 15 | 7/0.53 | 1.5 | 0.6 | 1.7 | 28 | 2 | 2 | 36 | 2350 |
| 20 | 7/0.53 | 1.5 | 0.6 | 1.7 | 31.7 | 2 | 2.1 | 39.9 | 3030 |
| 30 | 7/0.53 | 1.5 | 0.6 | 2 | 38.6 | 2 | 2.5 | 48.6 | 4050 |
| 50 | 7/0.53 | 1.5 | 0.6 | 2.2 | 48.9 | 2 | 2.7 | 59.3 | 5960 |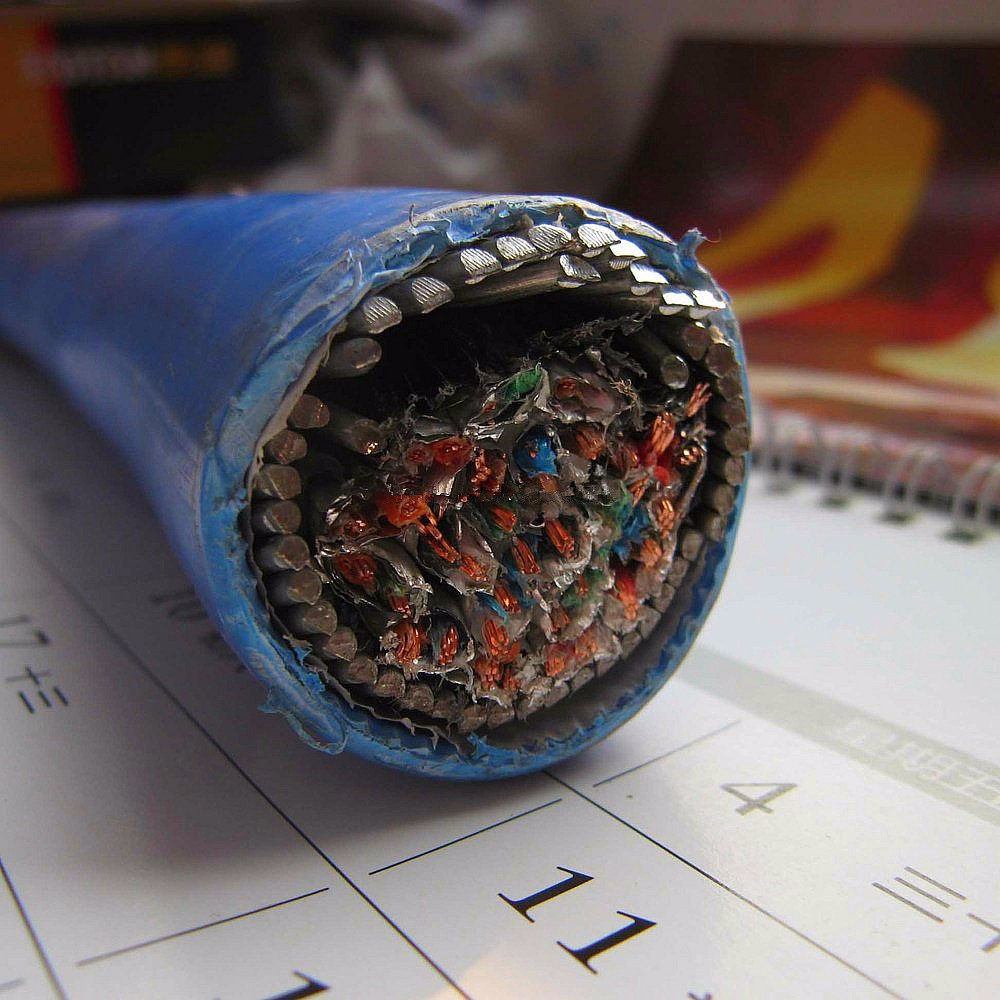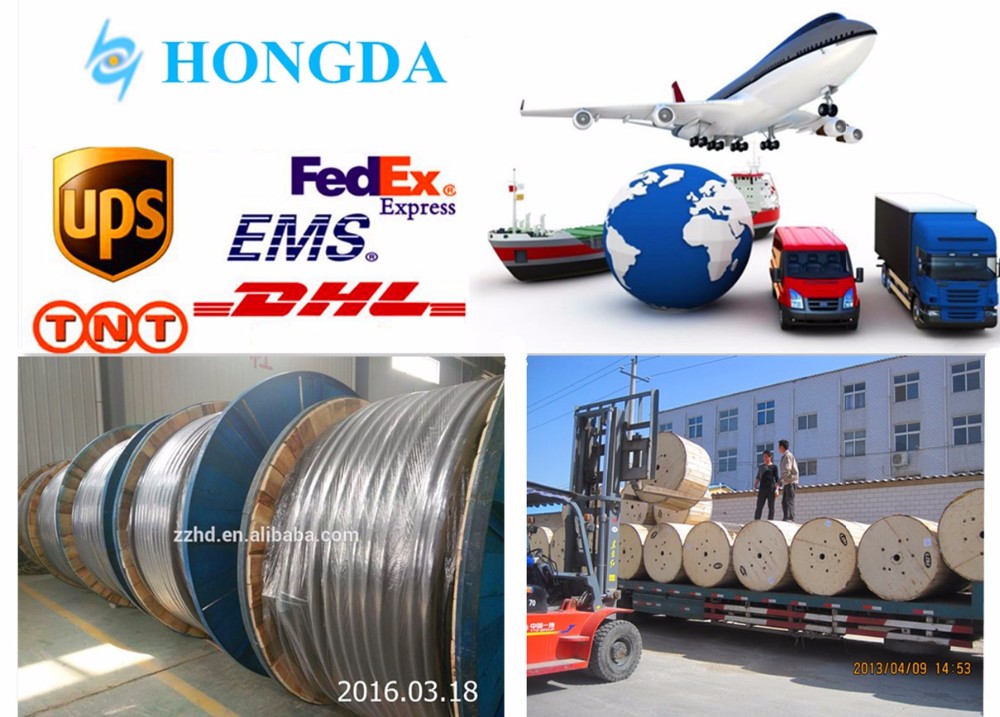 Packing 
Steel wooden drum (fumigation)
Cable length in each drum: 1000m/2000m or as per actual cable length requirements.

 Drum size:
As per cable length and container size
*In order to quote you accurate price, kindly tell us your needed cable length quantity. Larger quantity, more discount benefit ready for you!

Shipping of XLPE insulated aluminum conductor aerial cable:
Port: Tianjin, Qingdao, or other ports as per your requireents.

Sea freight:
FOB/C&F/CIF quotation are all available.
*For some countries such as Africa countries, middle east countries, our sea freight quotation is much cheaper than clients get from local shipping agency.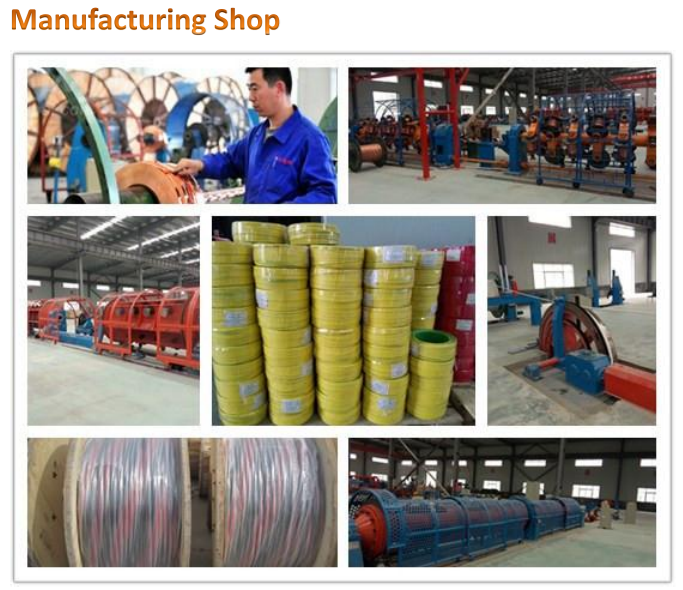 As you know there are so many cable manufactures, ZHENGZHOU HONGDA CABLE CO., LTD is one of the biggest manufactures in china-mainland. We will give you a perfect shopping experience . If you need visit our factory , we will meet you at the airport or train station.
Also we can offer other service 
Custom Merchandise:we can make cable as your need include the color ,size and so on.we also offer OEM .
Complete Course Tracking:we can offer you the service from the business begin to you get the cable and use it 
Cable sample : we can offer the sample free
Q: Are you trading company or manufacturer ?

A: We are factory.

Q: How long is your delivery time?

A: Generally it is 5-10 days if the goods are in stock. or it is 15-20 days if the goods are not in stock, it is according to quantity.

Q: Do you provide samples ? is it free or extra ?

A: Yes, we could offer the sample for free charge but do not pay the cost of freight.

Q: What is your terms of payment ?

A: 30% T/T in advance,70% T/T balance before shipment
 
If you have another question, pls feel free to contact us 



Contact us if you need more details on CU/XLPE/IS OS/LSZH
Power Cable
. We are ready to answer your questions on packaging, logistics, certification or any other aspects about CU/XLPE/IS OS/LSZH、CU/XLPE/OS/LSZH Cable. If these products fail to match your need, please contact us and we would like to provide relevant information.
Product Categories : Instrumentation Cables